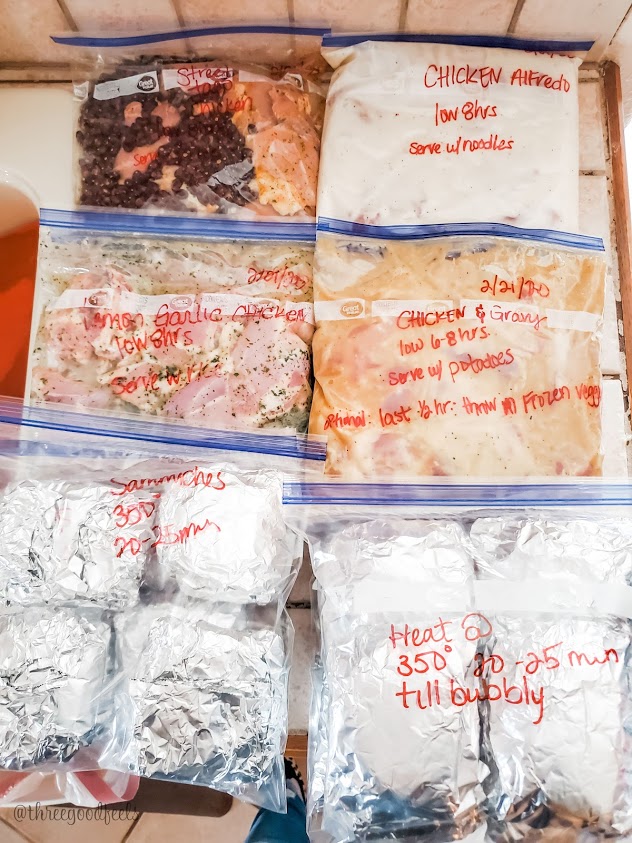 Hyperemesis is no joke, guys. My sister-in-law, Alyssa, has suffered from it during her last two pregnancies and her third go-around is no different. When we got word a few days ago that's it's in full swing at just seven weeks, we knew we had to step in and help out. With two toddler girls, my brother working full-time, and Alyssa pretty much bed-ridden, I knew one way to make life easier for them was to have their freezer stocked with easy meals.
I've food prepped for a few years now so I knew right away which meals I would turn to based on the ease of preparation. I went more toward crock pot meals because – obvs – they're a no-brainer, and because crock pot liners make clean up a flippin' sinch. How much easier can this get for John? Not much!
With that said, I'm sharing the easiest crock pot dump-and-go meals that you stash in the freezer and use when you're ready. Also for grabs is my "Arby's" dupe that you pull out of the freezer whenever a fast-food craving hits you square in the face. These meals are perfect for John because he can pretty much tackle dinner all on his own and have minimal clean up on nights when he has to do it solo. Let's get cookin'!
Chicken and Gravy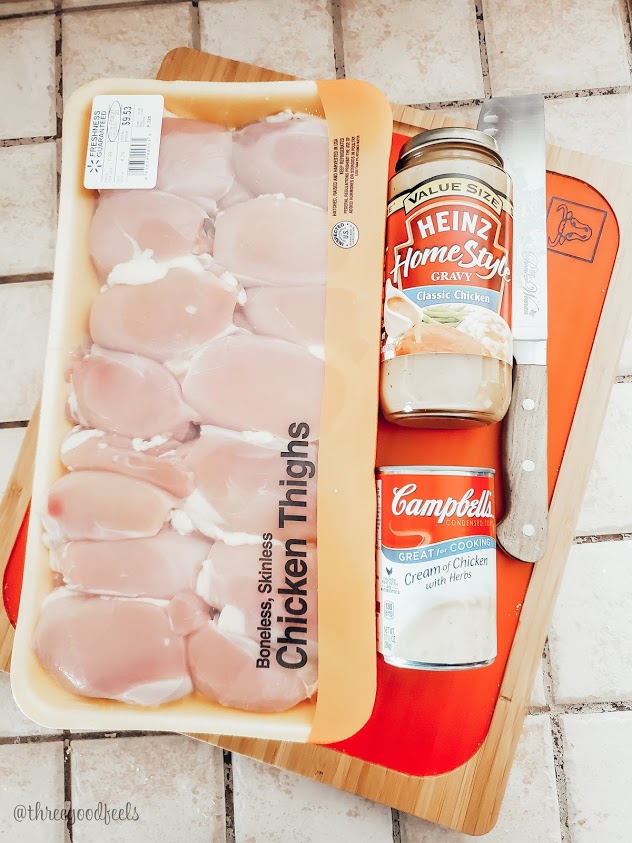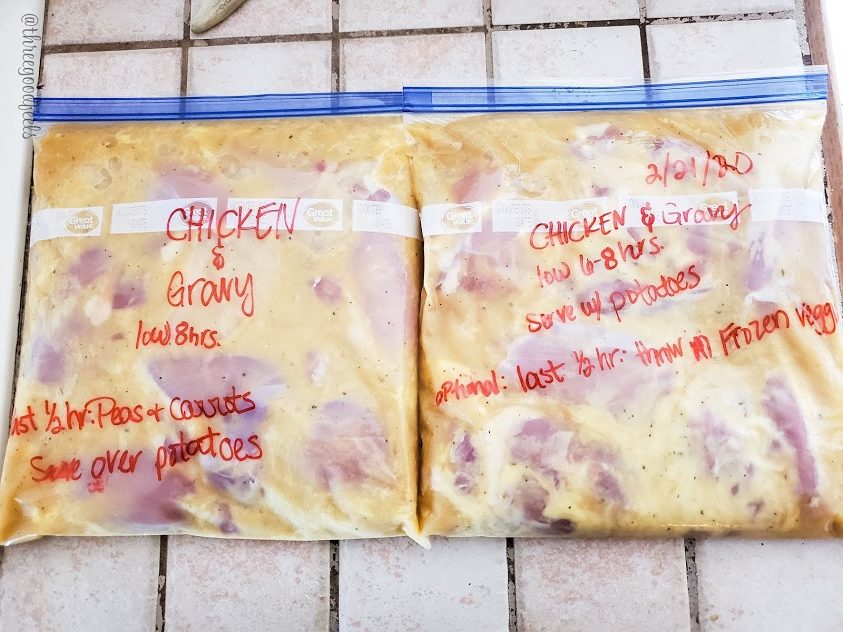 This recipe is so easy all the ingredients fit on one cutting board.
2lbs chicken (thighs or breast)
1 can (10.5 oz) cream of chicken soup
1 jar (12 oz) chicken flavored gravy
Dump it all in a gallon-size storage bag and work it around with your hands (outside of the bag, not inside) to incorporate all the ingredients. Close it up, trying to let as much air escape as possible while doing so, and either thaw the night before or throw in frozen to a crock pot. High 4-6 hours or low 6-8 hours. Serve with mashed potatoes. Other variations:
Add frozen peas and carrots to bag before freezing. Place biscuit dough (pilsbury, etc.) on top at the last half-hour of cook time to make chicken pot pie.
Add chopped green chile for some spice!
Serve with egg noodles or other pasta in place of potatoes.
Lemon Garlic Chicken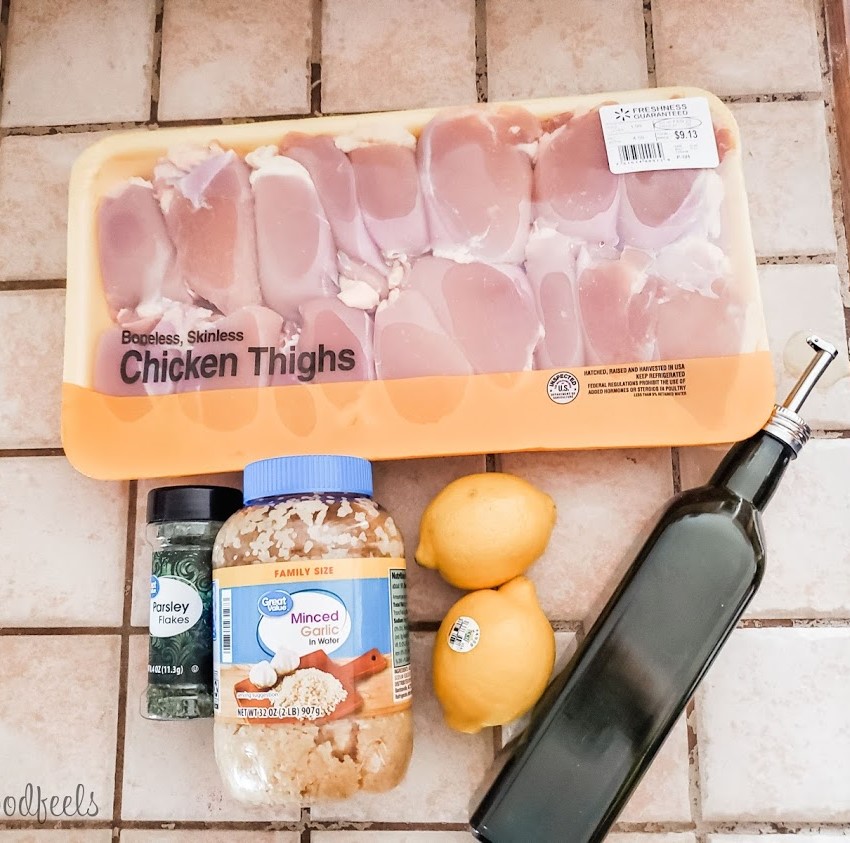 This recipe calls for two lemons or 1/2 cup of lemon juice. I don't know about you but I wasn't born with magic hands that can squeeze 1/2 cup of juice out of two lemons, so I used two more.
1.5 lbs chicken (breast or thighs)
1/4 cup olive oil
1/2 cup lemon juice
2 cloves minced garlic
1 Tbsp dried parsley
salt and pepper
Juice lemons and dump all ingredients (discard lemons, just the juice goes in) into a gallon-size freezer storage bag and incorporate the ingredients by moving the bag around once it's closed. Squeeze as much air out as possible and place in freezer until ready to use. Thaw the night before or dump in crock pot frozen. High 4 – 6 hours, low 6 – 8 hours. Serve with rice.
Chicken Alfredo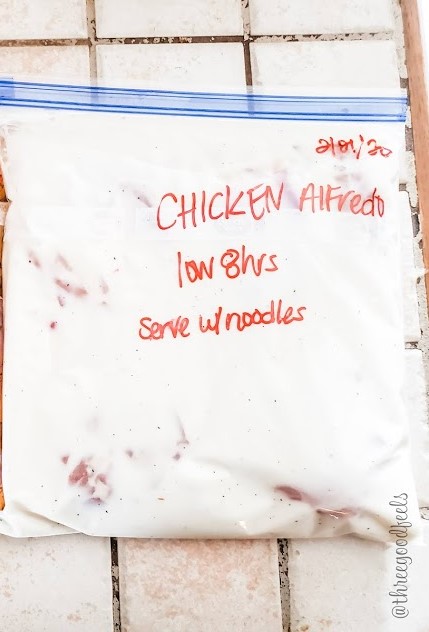 This recipe is so dump-and-go it ain't even funny.
2 jars alfredo sauce
Chicken (about 4 breasts or 8 thighs)
Dump. Freeze. Thaw the night before or throw in crock pot frozen. Serve over pasta. Yas.
Arby's Dupe Sandwiches
This is probably the best freezer meal I've ever laid my hands on, in my humble opinion. Everyone I've made these for has loved them and my family really loves them. We serve these with either curly fries or chips. Seriously so good!
16-oz packs of lunch meat of choice. Amount of packs depends on how many you want to make. You'll need around three slices per sandwich.
Hamburger buns. Again, amount depends on how many you want to make.
Sliced cheese (I used provolone).
Lay your hamburger bun out and place cheese on either side. Place lunch meat down, close'er up, and wrap in aluminum foil. Freeze inside gallon-size (or larger) freezer bag. To heat, place frozen or thawed foil-wrapped sandwich into a 350-degree oven for 10-15 frozen or 5 – 10 thawed. Serve with fries or chips. To make a yummy sauce for the sandwiches, mix these ingredients together:
big spoon mayo
squirt of dijon mustard
sprinkle of poppy seeds
I want to share with you what clean up is going to look like for you once you're done. Ready? Three, two, one . . .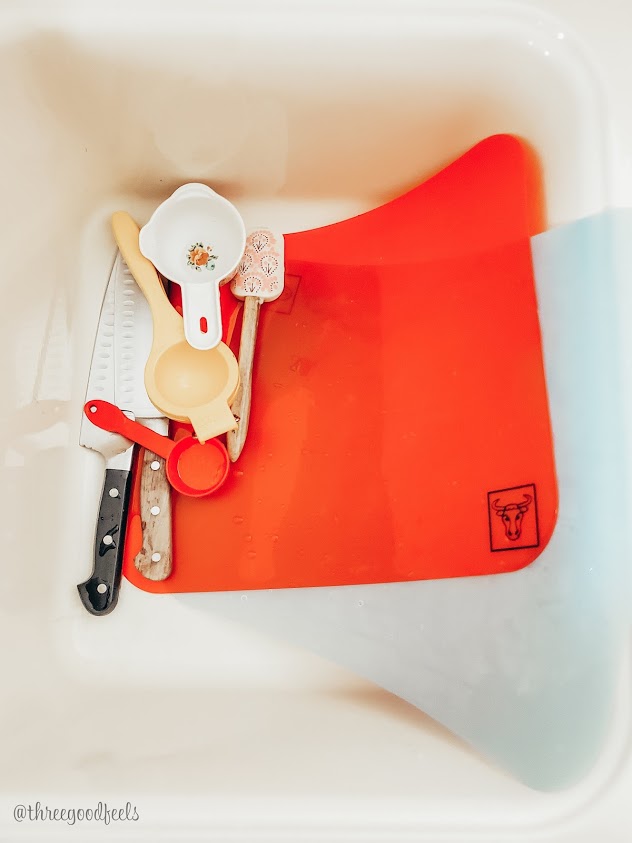 BAM! Hardly anything to fuss over! Grab a microphone and drop that sucka once you clean these dishes.
Hopefully these recipes help you as well when life gets a little crazy! Let me know what you think! Also, share below any other freezer meals that make you want to mic drop!